Since there isn't a 'New Products' section I thought I'd throw it right on here with the rest of the gear threads
I'd like to introduce you to the first of our 500 series modules that are planed for '08 release, A partner ship between Ashton Audio and Bizzar Audio.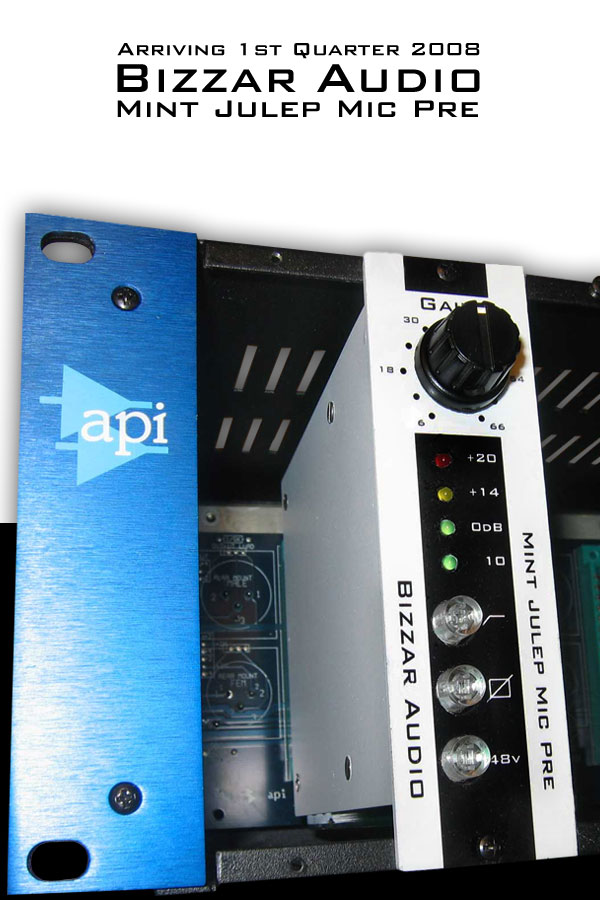 The Mint Julep is a high gain mic pre with a discrete front end that is electronically balanced throughout using high quality components like the Grayhill gain switch, 1% metal film resistors, Low ESR long life electrolytic caps, WIMA coupling capacitors & unique power distribution.
The pre is capable of up to 66dB's of gain in steps of 6dB's for accurate recall and also features a gentle active low cut filter at 100Hz, Polarity inversion and of course +48V phantom power. In addition we have added a metering circuit to round off the package, which was designed/built using the guidelines set out by the API VPR Alliance.
Inspired by an early British design it complements the large selection of 'coloured' 500 series mic pres by offering something that is clean, open and transparent.
All opamps are socketed and user serviceable/swappable with pin compatible chips eg TL072, NE5532, OPA2604 etc. We really like the sound of the 'classic' 5532 in this application, but a Burr Brown option will be available for the front end, for those wanting a silkier top end response.
The photos show one of the 5 prototypes that are doing the rounds with the commercial unit being set for release in within the 1st Quarter. Production units will be double sided offering better electrical and mechanical security and feature a solid, spun aluminum gain knob (not shown in the photos).
They will be available directly from us at a price that is going to set a new standard for affordablilty... though we can't confirm the final price until we have the first production run, it looks to be +- $450.00.
If you are interested you can take look at the guts here:
Mint Julep Mic Pre (Insides)
Since we are artists as much as scientists I decided to throw these clips up that I recorded with a prototype 'Green Pre' (the early stages of the Mint Julep).
It wasn't/isn't supposed to be a 'scientific test', merely a 'me strumming away on my acoustic enjoying the afternoon over a hot cuppa Earl Grey Tea' kind of thing.
One clip is the on board pre amp on a Digidesign 002R, the other 'Green Pre' Prototype... both were tracked into PT with no additional processing (EQ/Compression), though I think I may have normalized them (it was a while ago and I'm not in front of my DAW to check).
Bear in mind it was done with $200 Chinese OEM LDC... I'm sure the difference it would make with a KM84 or 'pick your favourite acoustic' mic would be even more startling.
002R ? Acoustic Guitar
Green Pre ? Acoustic Guitar
We plan to get them out to folks for further BETA testing and hope reviewers will share their thoughts as well and post a few A/B clips in time.
Regards
Matt (Ashton Audio) & Peter (Bizzar Audio)