Got back to work today. Rob was feeling better, so he climbed under the console and finished up the buss wiring: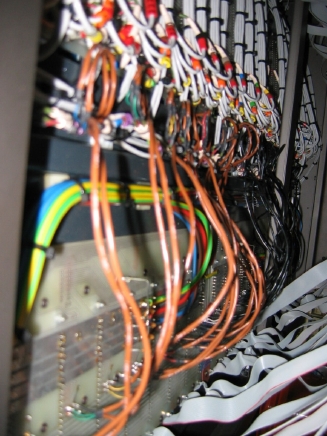 I started out my day by ordering a few more ELCO connectors and an ELCO pin pusher from Newark. Once I got to Rob's, I decided to dive into some of the patchbay work.
I tore into the patchbay and realized that all the cable was tired together with stuff intertwined and woven together. I decided that the best thing to do to be able to move a few of those things around was to disconnect a few things I would be moving anyway and see if I could make the wiring any neater.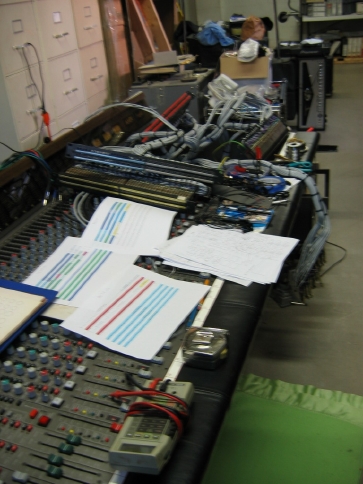 One thing that I did discover in the process is that Amek used multi-pair cable that isn't numbered. So if I disconnect any of this stuff in large groups, I'm screwed for figuring out what goes to what. I'm astounded that that is the case, but it's true. The connectors are numbered at the bottom panel with these little number tags, but not at the bay. Rob came to the rescue with some electricians' labels that I affixed to the appropriate cabling before pulling those patch points. I tore into that gigantic project and got so far as to do the aux rewiring that I wanted, which involved making mults for each of the aux sends (so that aux one has two patch points, aux two has two patch points, etc.), cutting the normalling to corresponding outboard gear, moving the primary headphone amp patch points to those positions, and then normalling auxes five and six to the main stereo inputs of the primary headphone amp. I'm starting to make a little space and am working towards making it neater.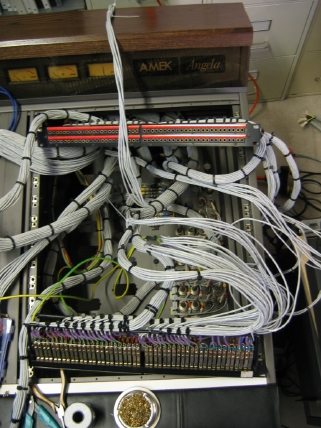 Here are the completed aux mults: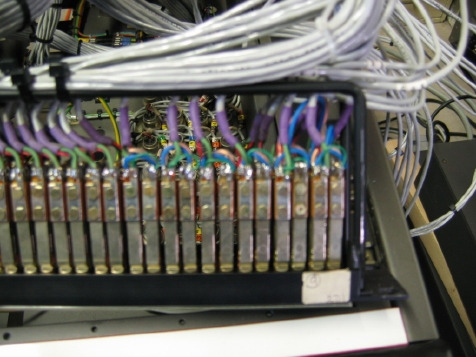 Here are those two oscilliscopes. The one on the left is a BK. Not too sure about the one on the right:
Tomorrow, we rivet the extra XLR connectors in place on the bottom panel and Rob starts on the phase reverse switch mod while I continue working on the patchbay rewiring... Namely the tape machine normalling.
It's a lot of work, but it's going to be so worth it.
Chris Garges
Charlotte, NC