Originally intended to replace cassette tape, their day has probably come and gone, jumped the shark, etc.
But I was in Japan when they first came out, and how exiting was it to have a thing in your palm that you could record and edit digitally on. Here then is my ode to the minidisc..
Hello fellow minidisc fans
.(?)
My minidisc journey began while I was living in Japan teaching English. I had just begun making my way into cassette four track recording of my musical efforts and a mix down deck was a must. I'd started using a funky boom box and saving up for a DAT deck when I saw an article in a recording magazine about a new format that would soon be available, the minidisc. Digital mixdown with editing, yeah! I waited and waited for this new miracle to show up in the stores of Japan, ignoring the Phillips digital cassette offerings that had come out around the same time, and grabbed an MZ-1 off a stack of about 40 or so for around 60,000 yen or $600.
I completely loved using it, and the editing was incredible. It felt so modern and futuristic. I did find out a short while later that the sound quality was not as perfect as I had expected digital to be. When I'd listen to the original cassette track of a slightly overdriven fender rythym track and compare it to the MZ-1 recording, a lot of the subtle detail and tonal quality was missing. Regardless, I loved the format and Sony, Kenwood, Aiwa et al were in a race to come out with the newest, best sounding, best designed and best featured units. Every few months or so I'd hit Akihabara and stalk the electronics stores to see what was new and improved.
I still remember showing the MZ-1 to folks at home the first summer I came home to visit and their stunned reactions. "Wow, what the hell is that? Japan must be amazing.." Once after leaning my bass against a wall it fell with the headstock coming down full force on the MZ-1's lcd display, completely shattering it. While it was no longer my main mixdown deck, I still had it repaired though the face of the unit still bears the scars I couldn't pound out from the inside of the faceplate.
By the time I left Japan after five years I had accumulated four portable recorders.
When I finally came home for good I found a Sony JA3ES deck that was on sale as a demo in a Good Guys store. It had L and R mic inputs in the front and I just had to have it. Later I bought a JB940 and enjoyed still better sound and the addition of the keyboard input for labeling all the individual mixdown takes.
I spent a lot of time making cassette mix tapes as a kid, and that was taken to a whole new level with minidisc. They could make the train commutes around Tokyo and Kanagawa something to look forward to.
At this point I just use apple lossless and iPod playlists, but I still use a minidisc deck for mixdowns and editing of works in progress. (along with a daw and a masterlink..)
The HI-MD thing came along after my minidisc honeymoon, but if they come out with a home deck I may be tempted.
My collection: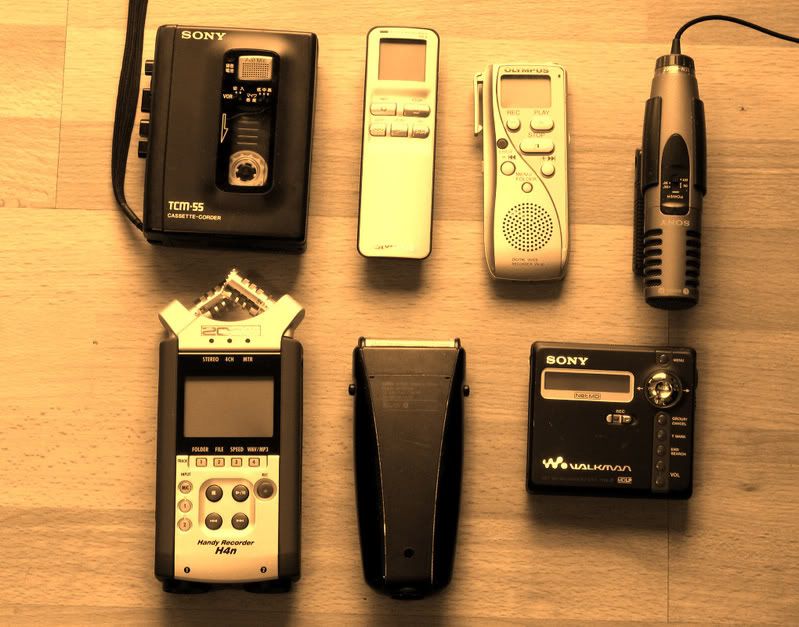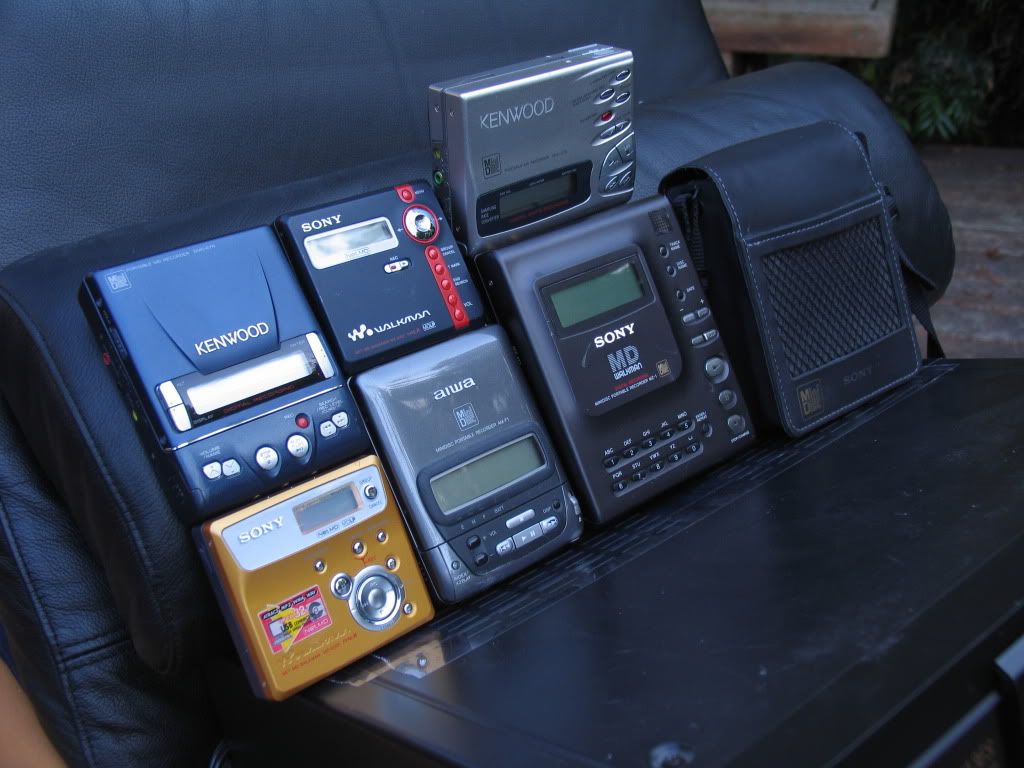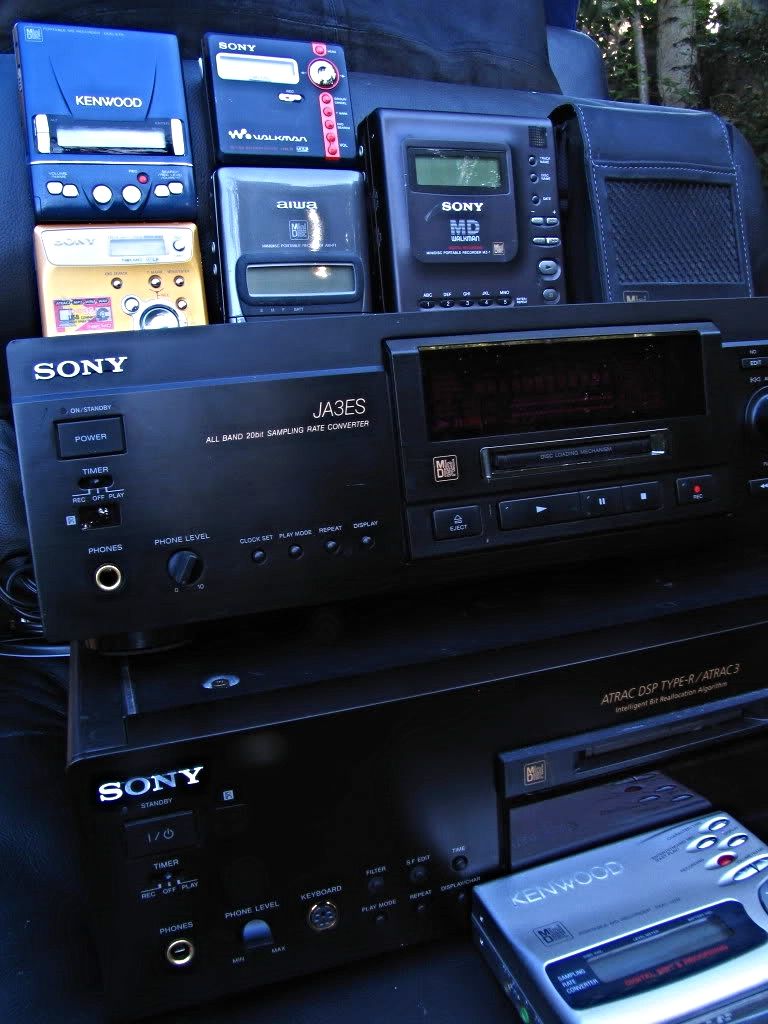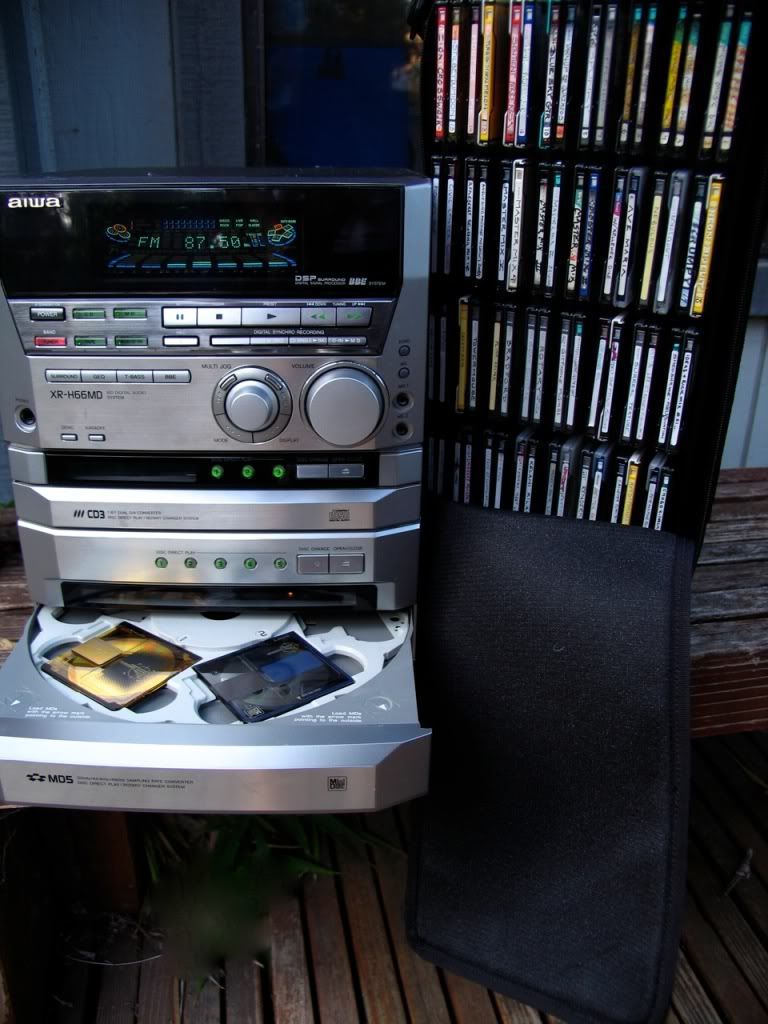 Sony minidisc forum
Sony minidisc reviews/pictorials forum