Hi all. I recently got a rack which has 5 Peavey PVM357 EQ modules in it. At first, I had no idea what they were, but the PVM357 mic is a small condenser which connected to a small preamp/EQ box via a mini XLR. They were suggested to be good for drum micing.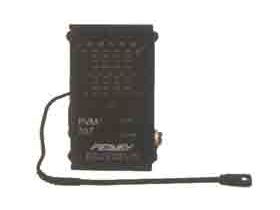 So I have this rack, but no mics. Doe anyone have info about these? My main questions are whether I can build my own mics for it with easy-to-find capsules, or whether I can plug in any other condenser mics to it (which I doubt, as I figure that this EQ box takes the place of the head amp in most mics and would need to be connected directly to the capsule).
Here is a link to the specs,
including a schematic
. Let me know what you think.
http://www.peavey.com/assets/literature ... 301936.pdf
Thanks.
Roger