This will be the third time I've built a "studio". Third time's the charm I suppose in that this is going to be an actual "up to code" structure. Having our spare bedroom/guest room/music listening room/my studio have to also become our office with the advent of working from home brought things to a head. There just wasn't any room to have anything setup anymore.
A little history. The first shedshrine was made of sheet rock, insulation and packing tape so that I could have a space to record while living in a tiny paper thin walled apartment in Japan. It was 4' x 8', just big enough to swivel on a drum stool between a little Roland TD-9 kit and a metal framed rack that I made out of shelving rails that housed an original adat, a mackie 1604, a mesa-boogie studio pre (which I ran vox, bass, and guitar through) and a Korg A3 fx box. I also had a Korg M1 keyboard that I would lay across the drumset when recording as well. I put some sliding hinges that allowed the Mackie to hand down as shown below or fold up and lock into a horizontal position once I was seated. I had a nice boombox I'd set across the rack gear come mix time, but most of the mixes were done with headphones and mixed down to minidisc players which were coming out fast and furious at the time in Japan. I could go about 20 minutes at a time with the door closed before oxygen became a concern.
I'd love to remix a lot of (read:all) of those tracks I made with that setup as those headphone mixes didn't end up translating well in most cases, but my recording methods were pretty haphazard at the time. For instance, I might have a guitar rhythym track I recorded to a a track on a four track cassette or to minidisc while playing along to a drum machine that I'd bounce to adat that I'd build up and then loop while trying out vocals and capturing on the minidisc. Therefore the "mix" is the vocal track. It was all about capturing the idea, having individual tracks to mess with later was not on my radar.
This photo was taken when I was moving out and had to disassemble shedshrine 1.0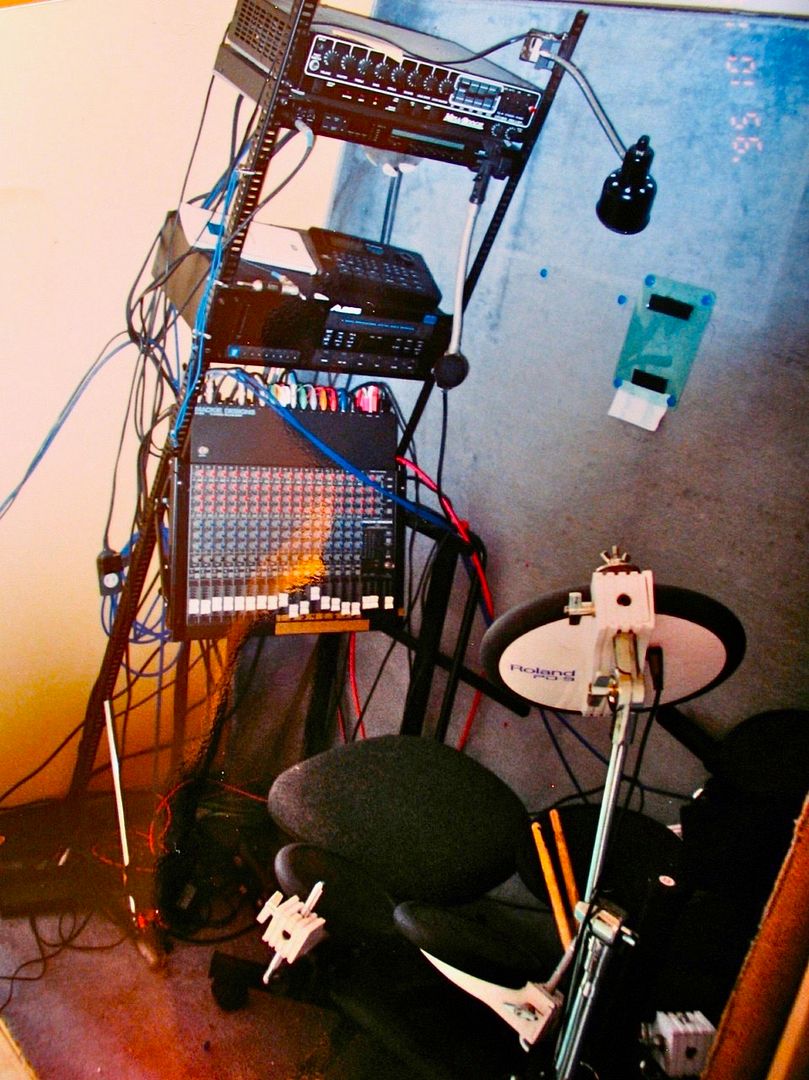 The second shedshrine was a step up in that I actually had wood framing of sorts, 2x2's offset staggered on each side of 2x4 baseplates in a spare condo bedroom. I don't know that any photos of that are to be found.
Now with the help of my contractor brother I have a real room within a room structure in the works. Not very large, but I was not going to take over the entire garage, as cool as that would be. The internal dimensions will be just 11'2"L x 8'4"W x 9'H. 12 electrical outlets (a four pair outlet plate and four doubles), 2 fire code steel clad doors, one opening out to the side yard, one opening into the rest of the garage. And an additional circuit to run some kind of ventilation/air conditioning to be determined.
I will add stuff to this thread as events unfold.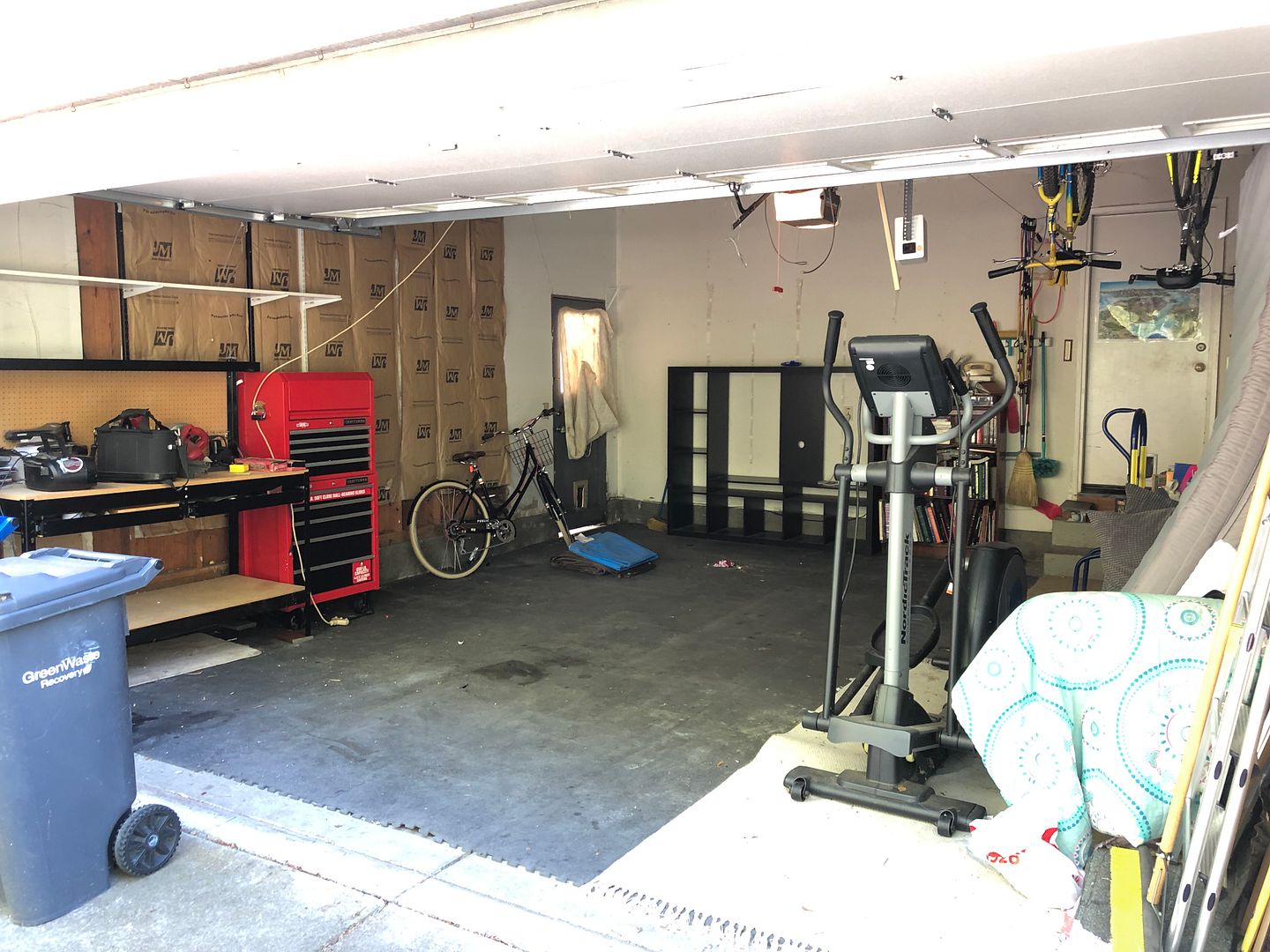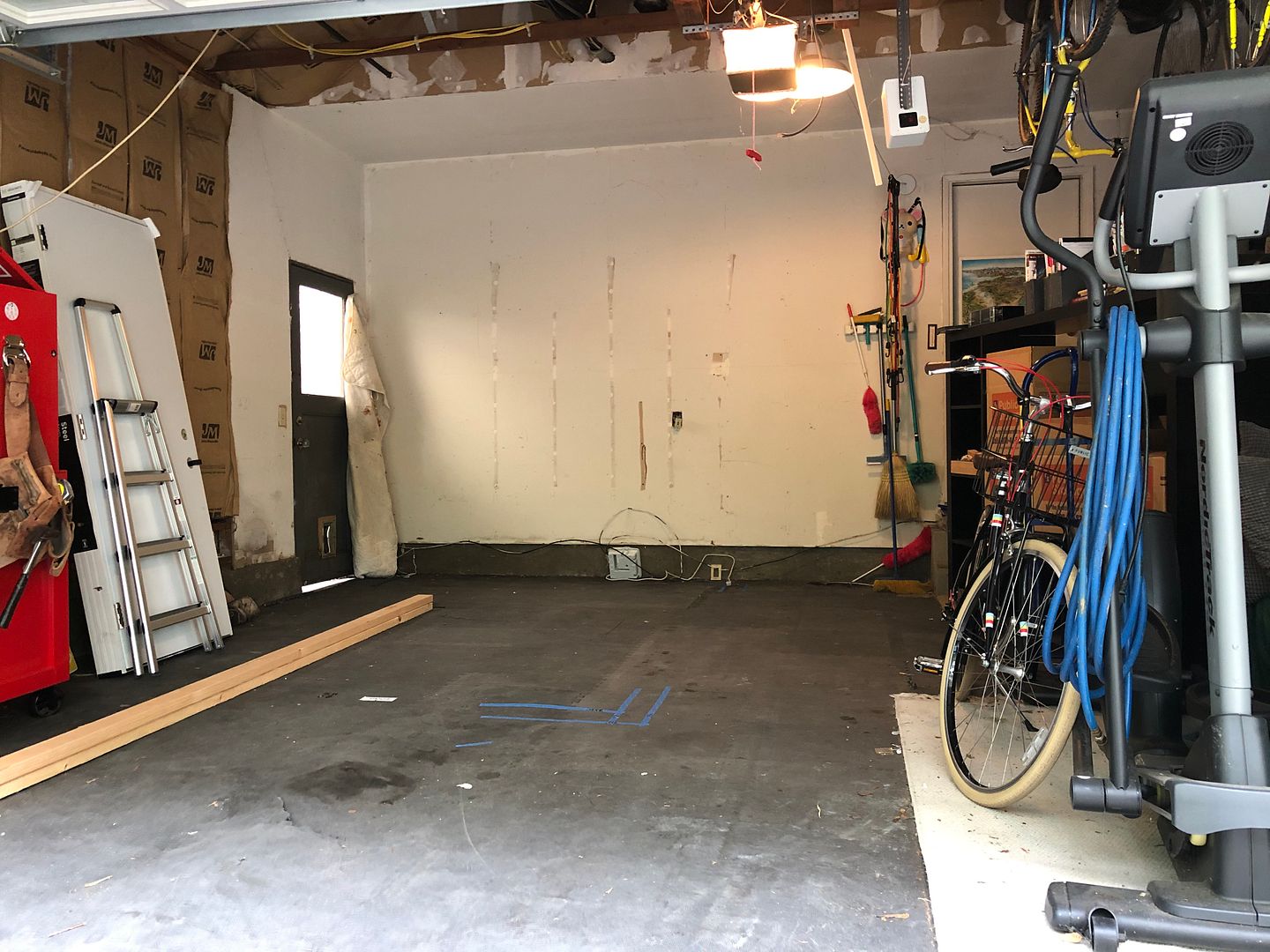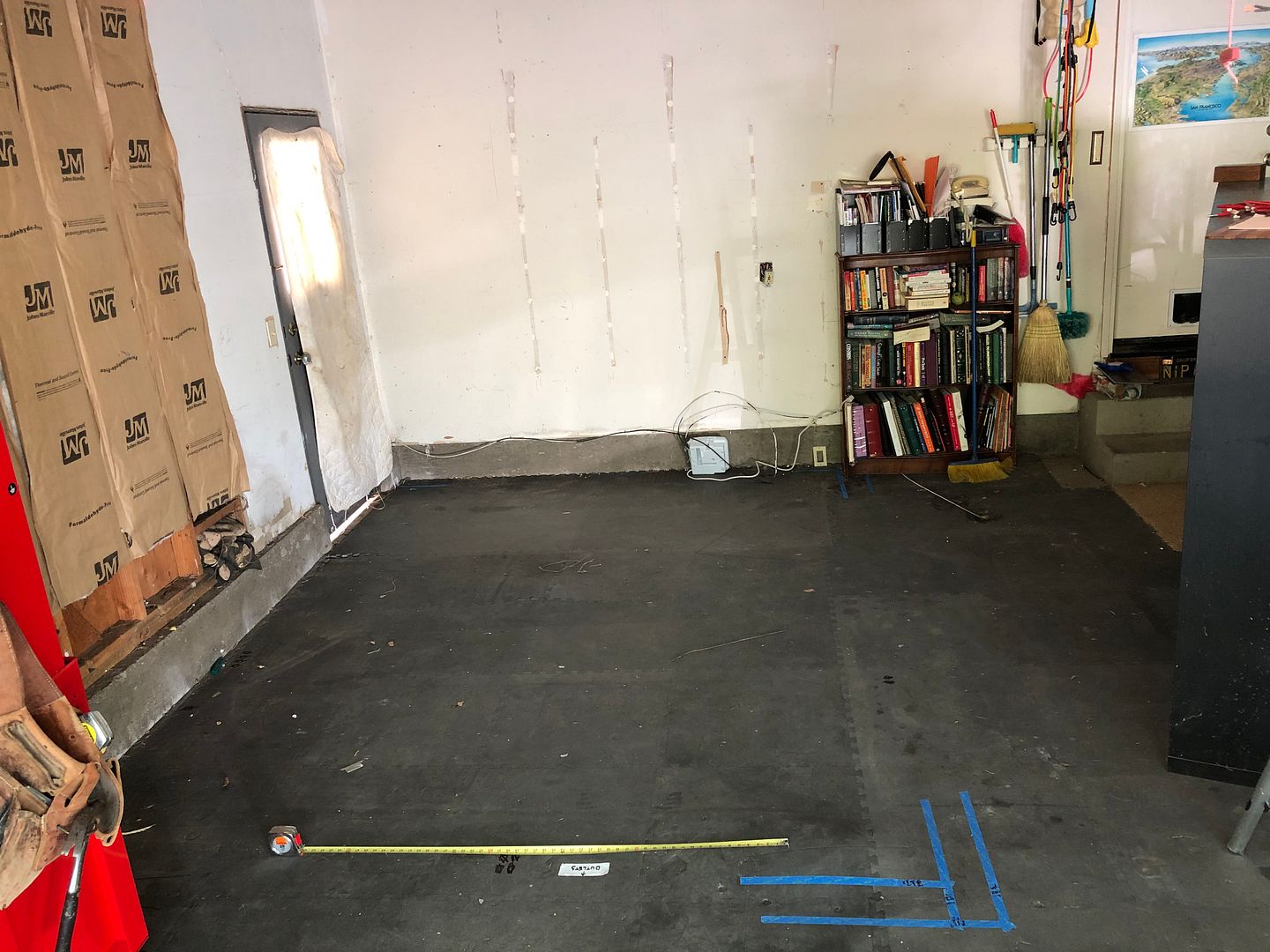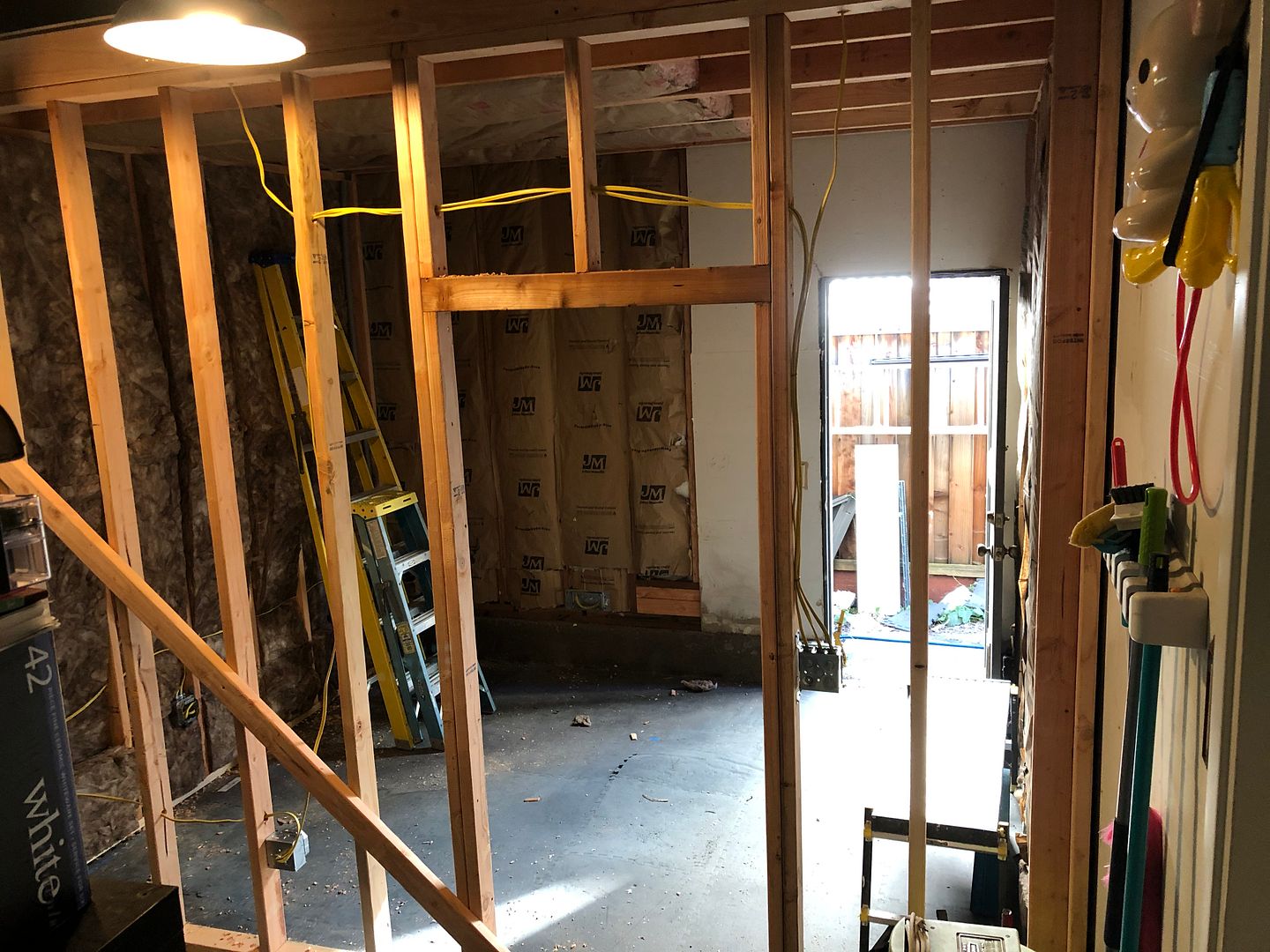 My brother added a box on the right there that is a grey pvc pipe that opens on the ceiling, currently capped and ready for any new technology to come down the pike to route through.