Moderator: cgarges
carpal tunnel
Posts: 1710
Joined: Tue Jun 01, 2004 5:47 pm
Location: sf bay area
shedshrine

wrote:

↑

Mon Dec 31, 2018 7:02 pm

..and happy new year.
---
carpal tunnel
Posts: 1710
Joined: Tue Jun 01, 2004 5:47 pm
Location: sf bay area
Wow, that was weird. i was trying to repair/replace a dead image from new years on a page further back in this thread and it posted as a new post. (operator error)
It's been a weird year, what can i say.
Here's another pic for your troubles.
---
carpal tunnel
Posts: 1710
Joined: Tue Jun 01, 2004 5:47 pm
Location: sf bay area
---
carpal tunnel
Posts: 1710
Joined: Tue Jun 01, 2004 5:47 pm
Location: sf bay area
Before Allan Holdsworth's solo career he played in a few bands, Nucleus, Soft Machine, U.K., Tony Williams Lifetime...and Tempest's first album shown here.
The other album pictured, Velvet Darkness: IIRC CTI released some practice tapes as his first solo album without his consent. The guy who owned this copy before me was either so disgusted by that that he never bothered to open it. Or he was a Holdsworth fanatic and was one of those collectors who buys a copy to play and a copy to um, fetishize and worship sealed and virginal for all time. I haven't opened it yet. There's something about a sealed several decade (44 years old actually ) old album that makes you want to leave it be. Guess I better get that player copy then. Doh!
Wiki:
"Holdsworth was a highly influential guitarist among advanced guitarists and was considered one of the most technically accomplished and most unusual players. According to Guitar World magazine he is "as influential as Chuck Berry, Jimi Hendrix and Eddie Van Halen".[59] Eddie Van Halen, Frank Zappa, Shawn Lane, Neal Schon and Gary Moore have proclaimed Holdsworth one of the most advanced guitarists of his time.[59]
However, Holdsworth remained "not well known outside musicians' circles",[59] and musically, even by guitarists, he was criticized for not being musical enough and being too technical for the average listener. Holdsworth himself understood that his music did not gel with the majority of people and said "I don't think everybody would like it, for sure. But if people got to hear it, if even 20% liked it, I would be really happy with that."[59] He once approached a major record label and was told by its producer that his music was "completely directionless," and how he did not approve of anything Holdsworth had ever done since he started making his own albums.[59] Guthrie Govan has said of guitarists who aspire to play like Holdsworth: "I think it's potentially dangerous when a rock type player hears a bit of Allan Holdsworth or Frank Gambale and then dives straight into that style of playing; not only is the technical aspect daunting, there's also all that musical knowledge and understanding going on behind the scenes, and it's really hard to absorb both of those aspects at once without your playing just starting to sound worse."
---
carpal tunnel
Posts: 1710
Joined: Tue Jun 01, 2004 5:47 pm
Location: sf bay area
The Mrs. pointed out that the previous photo was kinda "gucha-gucha", Japanese for messy or unorganized. Fine. Here's a more straightforward shot. But see, the previous had a theme. Unopened media. There's a heavy-duty S-VHS tape for adat recorders, and a cube of 10 unopened TDK minidiscs, as well as an unopened bonus disc Japanese edition of Frank Black's second solo album
Teenager of the Year
.
So you get both.
(Plants vs Zombies We've opened and played a million times however..)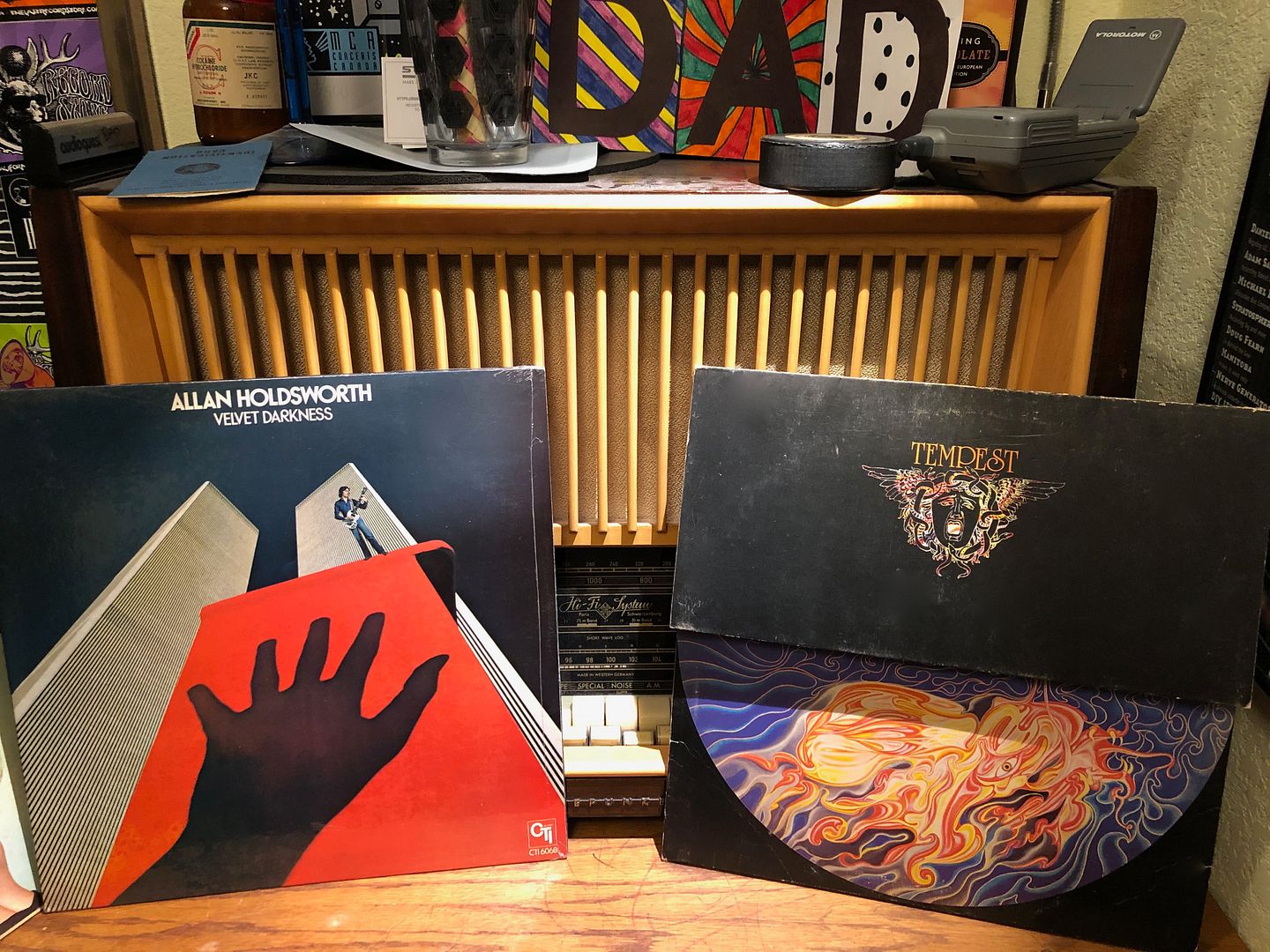 ---
carpal tunnel
Posts: 1710
Joined: Tue Jun 01, 2004 5:47 pm
Location: sf bay area
Dollar Bin covers on the office walls..
wow that really shrank will have to remedy later..
---
carpal tunnel
Posts: 1710
Joined: Tue Jun 01, 2004 5:47 pm
Location: sf bay area
Burned up collections have been a thing around Norther California in recent years, but there is also flooding of the Russian River from time to time resulting in some soggy vinyl.
Early on getting back into vinyl store owner said "hey, you ever heard of Gentle Giant? No?" He walked over to the dollar bin, handed me a heavily water damaged copy of Glass House "Take this home. Thank me later"
Months later, when I started entering my collection online I couldn't find a gatefold pressing of it on Discogs.
Upon closer inspection I found that the "gatefold" was actually the next album in someone's collection that when it dried had affixed itself to its neighbor.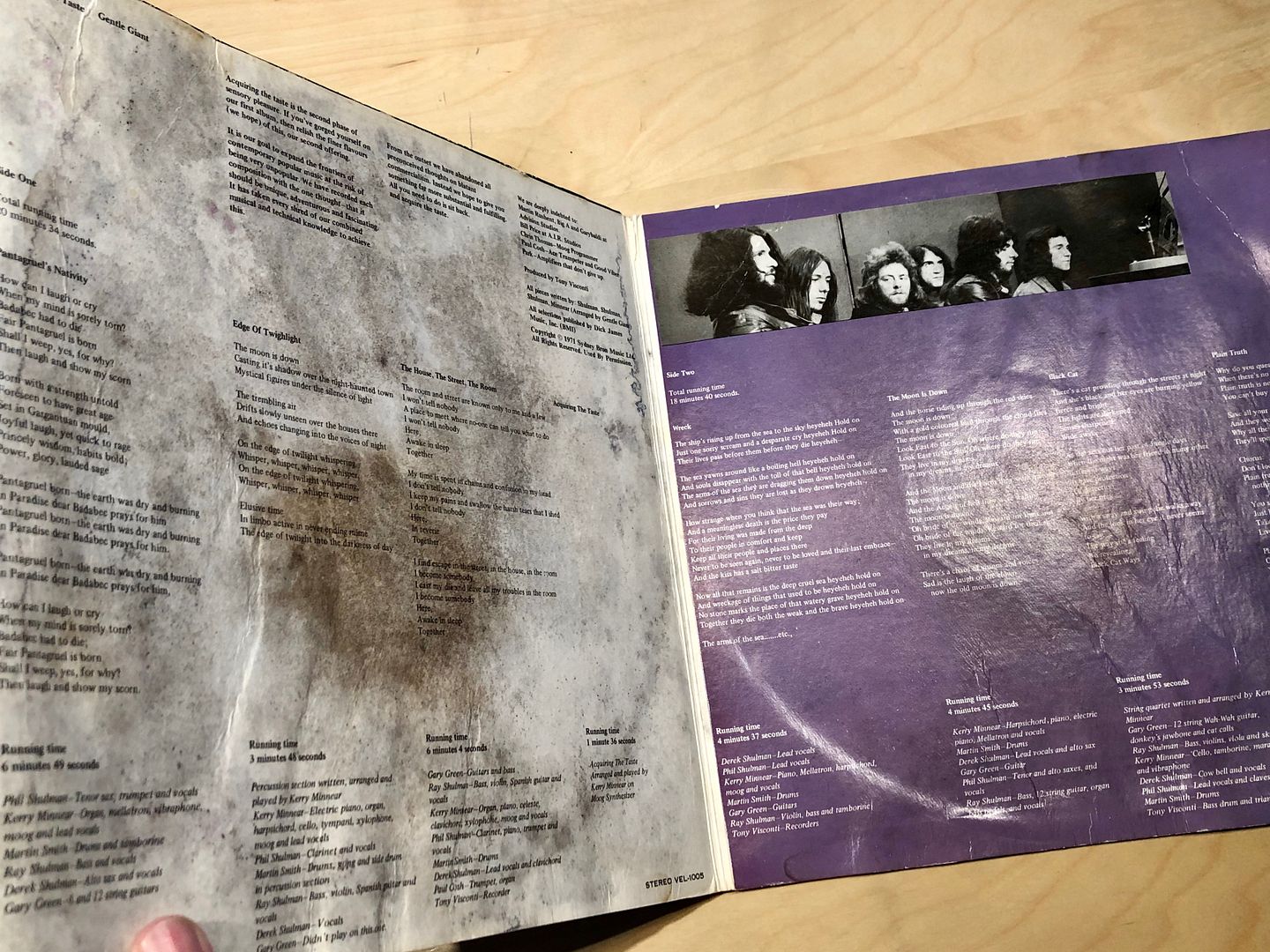 The opening for that album was completely sealed, and the cardboard had hardened stiffly. I ran a knife blade down the seam and found that there was a copy of Gentle GIant "Acquiring the Taste" inside. BOnus!
I liked what I heard! One of my fave bands to have on vinyl. Eventually I wanted better condition copies of both. Picked up copies of several of their remasters as well.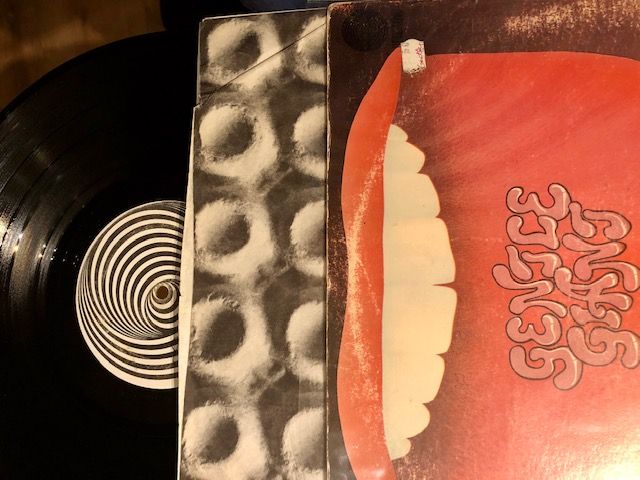 __________________________
I picked up a water damaged circa 1975 re-issue of Milt Jackson/Coleman Hawkins
Bean Bags
for a buck last weekend. The vinyl looked hardly played if at all. Finger snappin' jazz, and I'm a sucker for well recorded vibes on vinyl.
Attachments

IMG_1562.jpg (119.4 KiB) Viewed 59 times
Last edited by
shedshrine
on Tue Sep 22, 2020 4:33 pm, edited 4 times in total.
---
resurrected
Posts: 2346
Joined: Wed Nov 23, 2005 9:51 pm
Location: Austin, Texas
Contact:
this is all I have left. but I'm pretty sure I had Nilsson Schmilsson and a couple Ventures records and now I'm pissed off because I don't know where they went! bottom left Sandy Nelson record was my dad's - and the Ventures records that I cannot find too.
.
---
Who is online
Users browsing this forum: No registered users and 10 guests